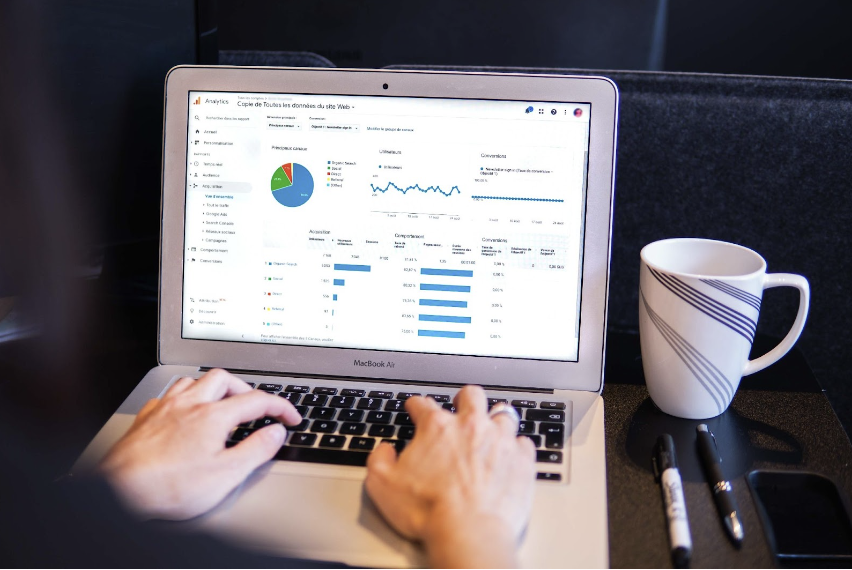 Paid Ads Successful Actions
Paid Search Marketing
May 3, 2023
Hello!
Dan Brown here, Senior Service Consultant at MGE and partner of Blumberg Digital, the digital marketing company that's servicing numerous MGE clients across the US and Canada with their digital marketing goals and needs. 
It is the end of the year and I want to talk to you about KEY actions you should be jumping on RIGHT NOW if you haven't already.  
I'm also going to be taking up successful actions for making paid ads work for your practice. No, it doesn't just mean hiring a marketing company to create and manage these for you. There are certain criteria YOU need to have in place in order to have a high success rate with Google Ads, Facebook Ads and/ or Instagram marketing. 
Okay so let's get into what actions you should be doing RIGHT NOW, and if you aren't YOU SHOULD BE.
First thing, it is END OF THE YEAR so what does that mean to patients?  Well, it generally means 1000 other things to be distracted about from caring about their teeth and overall health.  For November, that's Thanksgiving and end of the year tax planning.  For December, that is navigating the holidays, planning and shopping!
So what should YOUR DENTAL OFFICE be doing? 
Well, first and foremost you should be getting the message out to ALL your existing patients of "USE IT OR LOSE IT".  Yup, take advantage of your insurance benefits before they expire!  We don't care if we are in network with their insurance or not – they are going to lose whatever benefits come the end of the year and they should jump all over this.
How do we do it?
Well, EVERY WAY!  Email, Postcards, Social Media Posts and Bulk Texting.
For those using Blumberg DIgital's mass texting service, this is the time to hit it.  For those not using this system, this is the time to sign up.  You will see big bang for your buck on this campaign, and 98% of texts get read!  Yes – you heard me properly.  98% of texts get read.  
Should you use your 2-way texting platform (such as Weave, Lighthouse, Demandforce, etc.) for this?  Absolutley NOT. Don't use these platforms for mass texting.  Your patients can unsubscribe from a mass text and then they are unsubscribed from your scheduling software.  That's a No-No.  Just contact Alexandra using this email: "[email protected]".  
Don't delay on this.  There is a bit of set up and you will want to do this for November and December.  The longer you wait, the later you leave this.  Don't wait!
Again, 98% of text messages get read.  Our clients who are doing this texting program are seeing massive response.
Should you still do email and postcards?  Absolutely you should!  And you should have done your postcards October 1st!  Get them ready for Nov 1st, and do another run December 1st.  Hans at Xpress Promotion has a whole page you can go to and they will help you get these out immediately.  Jump on it.  Go to https://www.xpresspromotion.com/mge and see their selection.  Reach out to him.
And yes, you should be doing announcements on your social media and get your staff thinking with it in the office.  People appreciate when you help them maximize their insurance benefits!
Okay, next is Paid Ads!  Do you want specific procedures, like more Invisalign?  Implants?  Cosmetic?  Fixed denture cases?  Even emergencies and general restorative?  
Do you want to target a specific area? A specific demographic (such as age, income bracket, etc.)?  Well, this is how you do it.  BUT we have figured out what needs to be in place to see absolute success.
Blumberg Digital discovered the secrets to successful ad campaigns by testing and observing the common traits of all its top clients — and we want to share them with you so you can achieve the same. 
Before we jump into our 5 five secrets for successful paid ads marketing, let's do a recap on what paid ads are — 
Paid ads consist of Google Ads, Facebook Ads, Instagram Ads, YouTube Ads — any ad on a search engine or social media platform that is classified as "pay per click" marketing. 
For example, these would be classified as Google Ads for a dental marketing practice: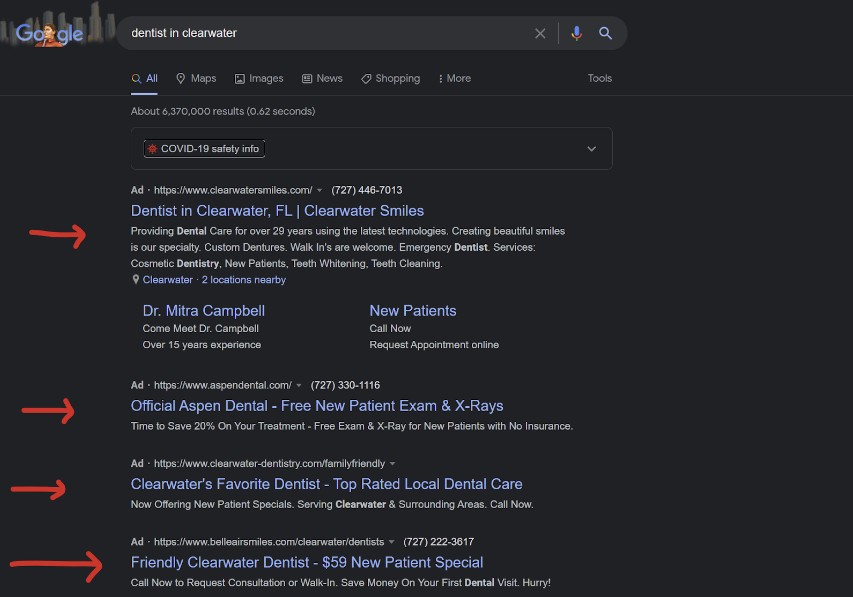 I typed in "dentist in Clearwater," since that's where I'm located, and these are the ads that showed up at the top of the first page of Google. Notice the term "Ad" in the top left corner for each one. When someone clicks on any one of those ads, that's costing the respective dental practices a certain amount of money, which differs depending on the keyword searched for. Today, the cost per click for the keyword "dentist in Clearwater" is $9 — this means that every time someone clicks on one of those ads, it's going to cost those practice's about $9 each. This is why you hear the term "Pay Per Click" associated with Google Ads. An advertiser has to pay a fee literally every time a viewer clicks on his or her ads. 
I'm happy to explain this in more detail if you need more information or examples — just email me at [email protected], and we'll set up a time to speak. 
Now, let's get down to what my top 5 tips for success are for getting the most out of your paid ads campaigns. 
Tip #1 — you HAVE to have a high ad budget. Costs per click have 3X-ed since January of this year, meaning an ad budget of $1,000 bought you a lot more advertising space a year ago than it does today. We recommend having an absolute minimum of a $1,500 ad budget per platform on which you're featuring ads.  If you can afford to do more, you will see even more than a proportionate response.  If you can do $3000 in budget, then do $3000 and just watch what happens.  
For example, having a $3000 ad budget towards your Google campaigns, you will be above the rest of the pack and will see a ton more calls than if you did $1,5000. So, if your ad budgets are currently anything less than $1,500 per platform, contact your account manager or marketing specialist immediately to have them increased. Remember, this is not money that goes to your marketing company — these funds go to Google and Facebook to fuel your advertising campaigns.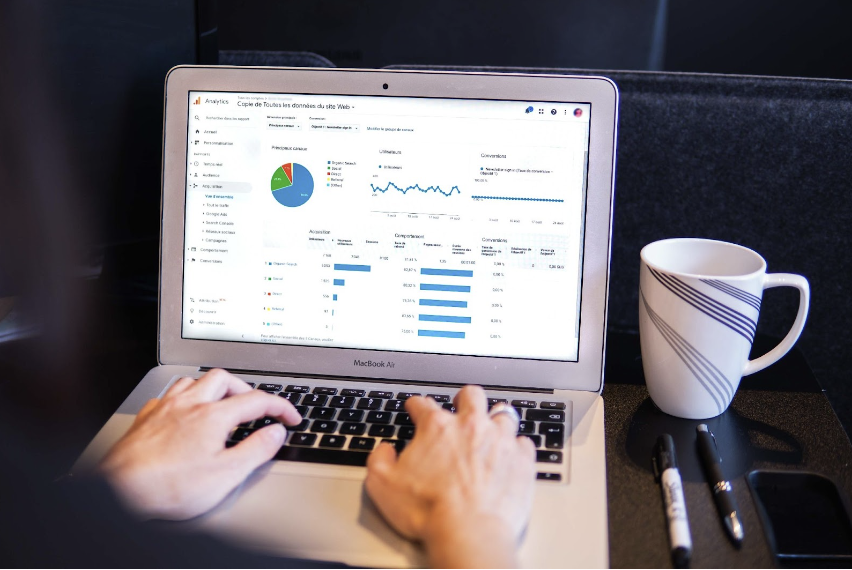 Alright, let's move on to Tip #2 — you MUST keep a call log. How are you going to keep track of where your reaches are coming from if one of your front desk personnel isn't noting this down? It's VITAL to ensure your friend desk is recording all the pertinent details of every call that comes in, including what service the lead is interested in, the value of the services interested in, and even what keywords the person typed into their search engine that lead them to find your practice. All of this information helps your marketing specialists improve your results month over month.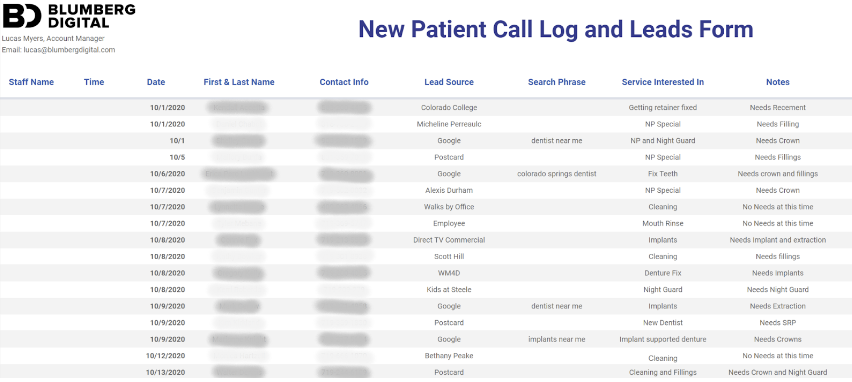 Next is Tip #3 — you need to have TONS of high-quality reviews on your Google My Business page. One of Blumberg Digital's clients who is acquiring amazing results with their paid ads has 536 reviews and a 4.9 star rating. 

I cannot stress how important this is! Imagine there are two ads for dental practices in your area and one shows 500 reviews and the other shows 30 — which one are you going to choose? Exactly my point. We live in a "review driven" society, where people rely on a high number of quality reviews to help them make decisions.  
Not only does having a large quantity of reviews affect your ads performance, it also affects your cost per click. Regularly acquiring Google reviews drives costs per click down. This means, the more reviews you have and the more often you're acquiring them, the cheaper it is for you to advertise. 
Moving on to tip #4 — your front desk needs to be really strong at answering the phones. In summary, this person needs to be friendly, warm and welcoming on EVERY CALL while having the perfect touch of aggression to get that reach booked in your schedule. The role of your front desk is not just to receive phone calls — these people are the gateway for all of your reaches, which is the result of those precious marketing dollars you spend month after month.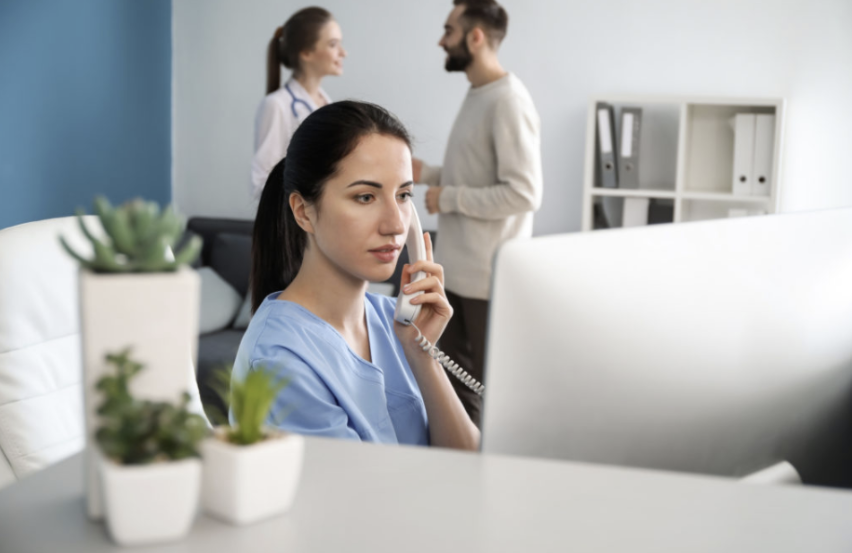 Before going into every call, your receptionists need to have the viewpoint that every reach is a potential new patient — and each call needs to be treated as such. If a person calls looking for a different practice, have your receptionist convince him or her that yours is the best one for the job and GET HIM SCHEDULED. They need to take advantage of every opportunity that calls in. The receptionist post is not for the weak or faint-hearted — this is a big job and one of the most important ones at your practice. Without reaches, your practice can't survive — the receptionist cultivates those reaches so that you can close them on their treatment plans. If you feel your receptionist is not up to par, have him or her review the Phone Skills video in MGE's DDS Success video training, or, if you're a Blumberg Digital client, have that person reach out to Amy to set up some one-on-one drilling sessions. Amy's email address is [email protected]. 
OK, here's the final tip — Tip #5:
If you're on Blumberg Digital's lead management platform, you're extremely lucky! This is a unique, state-of-the-art marketing tool that allows your front desk to manage reaches and ROI (which stands for return on investment), listen to calls, respond to Facebook reaches, send direct Facebook Messenger messages and more. 
Now, what's the trick with this platform that separates successful ad campaigns from the not performing ones? Utilizing the platform — that's it! The leads manager behind the successful campaigns is actually USING the platform, meaning they're creating cards for every reach (if they're not already automatically created) and moving them into the appropriate categories as they develop into scheduled new patients and eventually pay for treatment, with the exact treatment cost recorded.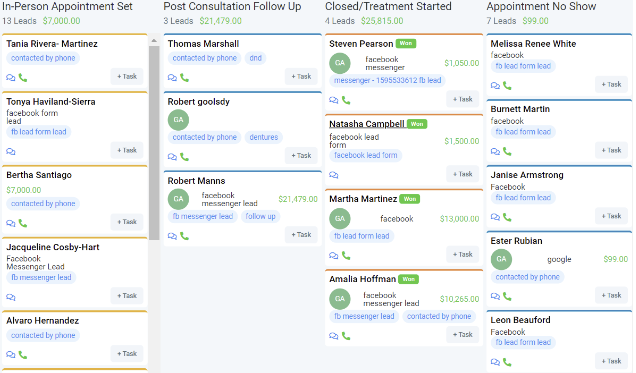 So, why is this important? This system helps you and your staff have a birds-eye view of all of the reaches you're accumulating in real time, including those who need to be followed up with, those who canceled and need to be rescheduled, and those who arrived at your practice and need to be closed on their treatment plans. Meticulously managing leads and moving them along in the sales funnel is crucial for acquiring return on investment on your ad campaigns — and that's true for all of your marketing — but even more so for ads, as you're accumulating numerous leads on a daily basis, so there needs to be some structure in place for organizing and managing them all — this is the true purpose of the HighLevel platform. 
When reaches come in via the Facebook Messenger platform, they need to be responded to within 1-2 minutes, but ideally they're responded to within seconds.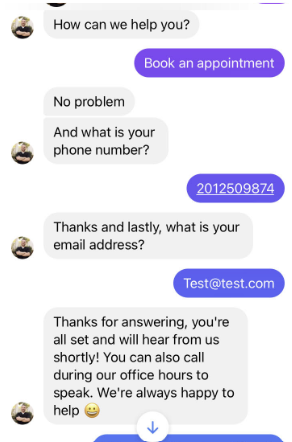 The more time that gets added before responding to the person, the more likely they are to lose interest and go onto something else. 
In conclusion, coupled with the leads management dashboard, you need to have a staff member dedicated to overseeing all of the leads at all times of their work days. Ideally, this person is not cross-hatted, as additional posts take time and attention away from acquiring potential new patients and responding to leads.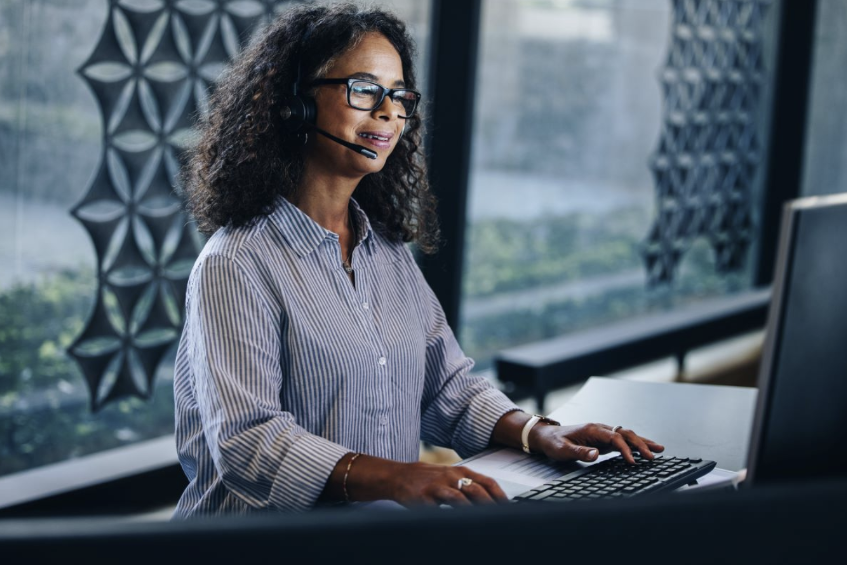 Alright, so let's recap what we've gone over thus far. 
The five key MUSTS for generating successful paid ads campaigns are:
You must have a sufficient ad budget for EACH platform on which you advertise. You should be thinking with at least $1,500 dedicated to each.
You MUST keep a call log so you can track all of the reaches who phone the practice or message in via the Facebook Messenger platform.
You MUST have a high number of Google reviews and continually be acquiring them.
Your Front Desk MUST be competent at answering the phones and treat every call as if it's a new patient who is going to get scheduled into your calendar. 
And you MUST have a dedicated leads manager who is continually overseeing and governing the leads management system to ensure all reaches are regularly organized and ROI is tracked. 
Okay, well that's all I have for this video message. Get these points in so you can achieve the most ROI possible from your paid ads campaigns — and let me know what questions you have by emailing me at [email protected]. 
Also let me know if this was helpful.  I would love some feedback! I'm here to help no matter the marketing issue you're running into. 
Really wishing you a fantastic month, and I'll see you on the next one!